Around age 6, children begin to lose their baby teeth and their permanent teeth start growing in. However, not every child's adult teeth grow in straight. Your child might require braces to straighten their adult teeth due to a variety of factors, such as genetics, prolonged finger sucking or pacifier use, facial trauma, premature tooth loss, a tongue thrust, or other orofacial myofunctional disorder. But how do you know when is the right time to get braces?
When to Begin Orthodontic Treatment

Storybook Smiles offers orthodontic treatment for children and teenagers in Tyler, TX. We recommend scheduling an orthodontic consultation for your child around age 7. Scheduling an orthodontic consultation by 7 years old is also consistent with the recommendation given by American Association of Orthodontists.
After evaluating your child's mouth, we'll let you know when your child would benefit most from orthodontic treatment. We may recommend treatment to commence shortly after their consultation, in a few years, or a "wait and see" with periodic checkups. It will depend on several factors, such as the severity of your child's misalignment, their lifestyle factors, and your budget.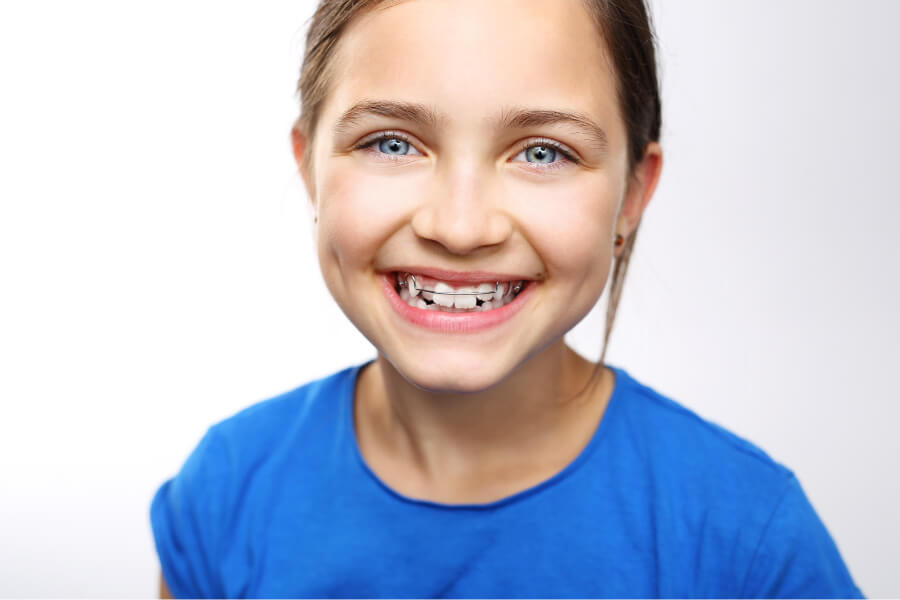 Benefits of Orthodontics
Orthodontics are not just about enhancing the appearance of your child's smile. They're also about helping your child have a healthier smile and improved confidence in the function of their teeth. A straight smile is easier to clean so your child will have less risk of tooth decay and gum disease. Resolving any bite or jaw issues can reduce potential pain, difficulty eating, and speech problems.
Orthodontic Treatment Options at Storybook Smiles
Dr. Patrick will carefully assess your child's smile to determine if they need treatment and the proper timeline. Storybook Smiles offers traditional braces and interceptive orthodontics, which considers how your child's teeth and jaw are expected to develop.
Interceptive orthodontics can reduce the overall amount of time your child needs to wear braces. Treatment may include braces, expanders, (which create more room for adult teeth to grow in), space maintainers (which reduce potential crowding), and more.
Affordable Orthodontics in Tyler, TX
Our Tyler dentist and team at Storybook Smiles is committed to delivering exceptional orthodontic and dental care to young patients. In addition to comforting amenities to help your child feel right at home in our office, we offer affordable treatment plans so a straighter smile can be a reality for your child.
Please explore our website to learn more about our services or what to expect at your child's first visit.