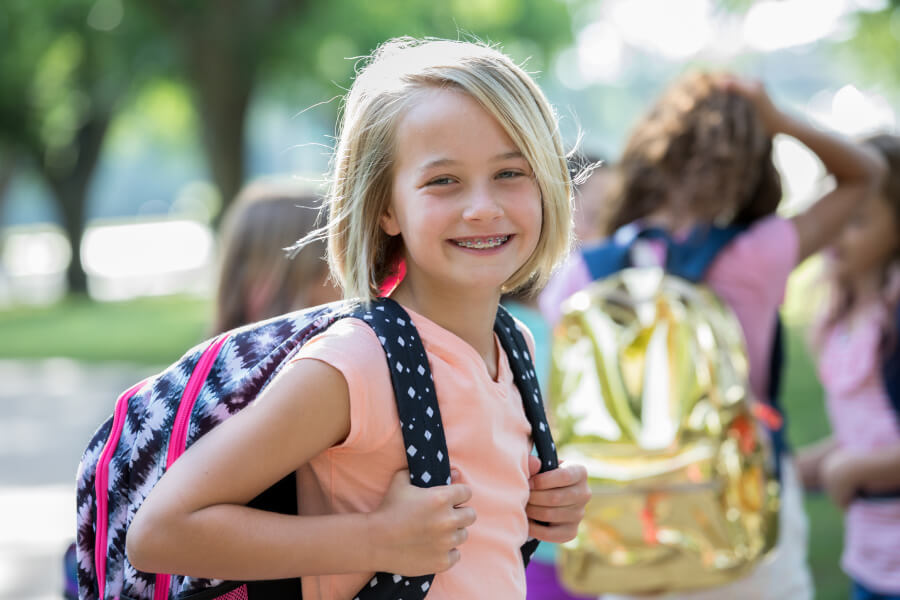 Not everyone's teeth grow in straight. Misaligned teeth can: be more difficult to keep clean (increasing the risk of cavities and gum disease); contribute to jaw pain; cause uneven wear on enamel; and lead to low self-confidence.
Whether a patient has an overbite, underbite, crossbite, open bite, spacing issues, or crowding, orthodontic treatment can shift their teeth into positions that are healthier, more functional, and esthetically pleasing.
Orthodontic Treatment at Storybook Smiles
Our Tyler dental office proudly offer comprehensive pediatric orthodontic services. We also provide early intervention orthodontics, called interceptive orthodontics.
Interceptive orthodontics focuses on early detection, prevention, and treatment of misalignment. This early orthodontic intervention can occur when your child still has many baby teeth. It consists of a treatment plan that considers how your child's teeth and jaw will develop with the goal of shortening your child's overall treatment time.
When Should My Child Start Orthodontic Treatment?
Your child does not need to have all their adult teeth to begin orthodontic treatment. We recommend you bring your child in for an orthodontic consultation when they are around seven or eight years old. We'll let you know if they would benefit from treatment at this early age. And if their mouth isn't quite ready, we can give you a better idea of what to expect as their teeth and jaw continue to grow.
During your child's consultation, we will closely examine their teeth and jaw. This allows us to develop a custom treatment plan just for them. This will vary per individual, but could include treatments like a palatal expander, baby tooth extractions to allow adult teeth to grow in properly, or a space maintainer to prevent shifting and overcrowding. We'll also discuss your financial options.
Kids' Orthodontist in Tyler, TX
At Storybook Smiles Children's Dentistry, our mission is to help young patients have healthy, beautiful smiles. We hope to positively contribute to your child's overall wellness, confidence, and success. So if your child is ready for their orthodontic consultation, contact us today!